In my digital media and journalism courses at The George Washington University School of Media & Public Affairs, I'm preparing my students for careers that don't exist yet. That's because social media is changing everything — not just the way we deliver information in our society, but also how we receive and understand it.
I believe that, in order to be successful in this changing landscape, students need several things: digital media skills, the ability to find great characters and tell great stories, and a passion for what they're communicating about.
Evolving my courses to keep up with changes in digital media
I teach Introduction to Video Production, Introduction to Social Media and Web Production, and Advanced Reporting. The titles stay the same, but the courses evolve and change based on what's happening in digital media and the world around us. I always focus on the traditional aspects of media and reporting — technical proficiency and good storytelling — but I also have my students track and examine changes in the way information is being disseminated.
For example, students in my Intro to Social Media and Web Production course have been looking at how, ever since Instagram increased their maximum video length to 60 seconds, news channels are using social media to deliver stories in videos of about the same length. I challenge my students to create a compact, informative news package for social media — a video that tells a story with captions and no sound. We talk about the importance of hooking the audience's attention in the first 15 seconds and explaining a complicated subject as quickly and simply as possible.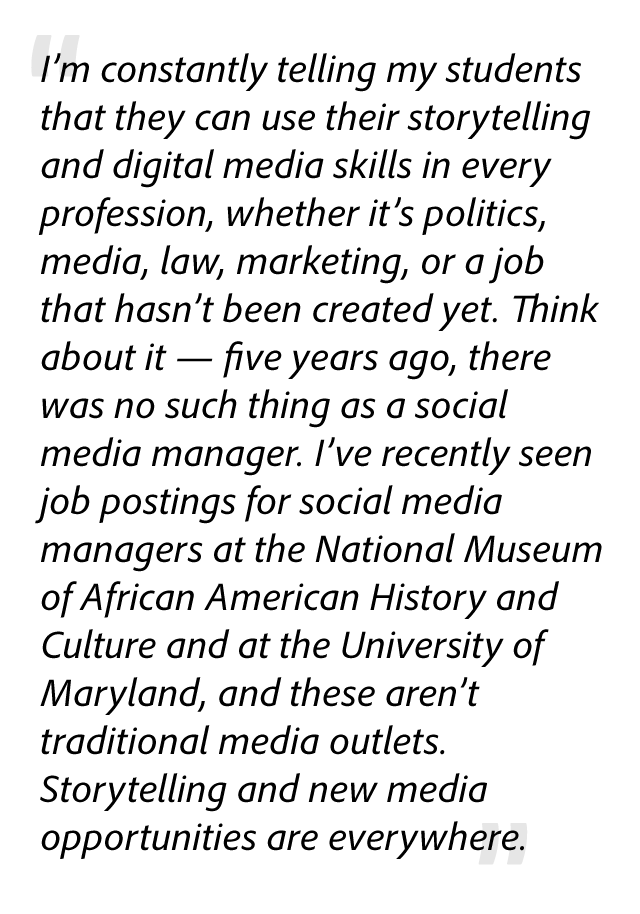 In my Advanced Reporting course, I have my students respond to the changes brought on by social media in a different way. One of the issues with social media is the ease and speed of publishing — you can be too quick to create a story and post it. So we study and practice the concept of slow journalism.
For one assignment, I had my students walk different neighborhoods in Washington D.C. They had to get off their phones, look up, talk to people, and really take in what they saw around them. Then they used Adobe Creative Cloud tools to create photo essays, infographics, videos, and multimedia presentations that showcased the sights, sounds, voices, and information they discovered during their walks. The assignment culminated in Northwest Now, a website that brought together all of their work, and I was really impressed with what they were able to do and the stories they were able to tell.
Stair-stepping digital media skills to get students creating
I make sure my students tell their stories using real-life software applications. The Colombian College of Arts & Sciences supplies all students with Creative Cloud, so my students can use all of Adobe's digital media apps. They create simple images, web stories, and videos with Adobe Spark, and then they advance to Adobe Illustrator CC to design graphics, Adobe Photoshop CC to create images, and Adobe Premiere Pro CC to make videos. They also use apps like WordPress to create web pages.
Many of my freshmen arrive in my classes never having used digital media tools, so I stair-step the learning. In Intro to Video Production, their first assignment is to create a photo essay in which they introduce themselves to me and their classmates. They use Spark Page, which offers easy tools for creating a simple web story with text and images. With Spark, they can get their storytelling skills down before we move on to more complex tools and projects, like creating a video in Premiere Pro.
My goal is to get everyone to at least a basic level of skill with Premiere Pro. I teach students how to import their video clips and edit them together with stills, text, and audio on the Timeline. I want to meet all my students where they are, so I challenge my more advanced students to go deeper. I personally use and recommend all kinds of resources for learning new skills, including the Adobe Education Exchange, Lynda.com, training courses through Future Media Concepts, and the robust online community of creatives that's always available to help.
Enhancing career prospects with storytelling and social media skills
Storytelling is critical in every industry in some way, shape, or form. It's April 2017 as I write this, and Pepsi just had to pull a very expensive, high-profile TV ad because they were trying to tell a story and completely missed the mark. My students are working on an assignment based on what happened with the Pepsi ad. It's all about how telling stories can go wrong, and it teaches them how important it is to get it right.
We also spend a lot of time talking about the key aspect of storytelling: characters. Whether they're walking through DC neighborhoods or another reporting project, I encourage my students to get out of their bubbles and talk to people. It's essential that students learn how to get people's perspectives so they can personalize the stories they tell and make them compelling.
I'm constantly telling my students that they can use their storytelling and digital media skills in every profession, whether it's politics, media, law, marketing, or a job that hasn't been created yet. Think about it — five years ago, there was no such thing as a social media manager. I've recently seen job postings for social media managers at the National Museum of African American History and Culture here in D.C. and at the University of Maryland, and these aren't traditional media outlets. Storytelling and new media opportunities are everywhere.
Inspiring students to find their passion and learn to express it
Most of my assignments are based on some sort of social justice issue. I ask my students, "What do you care about? What moves you? What are you passionate about?" Oftentimes, no one has asked them these questions before. Even if they're not experienced with digital media-making, they know they want to express themselves.
So I keep asking, "Why did you take this class? What brought you here? What do you want to do?" I make an agreement with my students. They show up eager and excited to be creative and tell stories and have fun, and I teach them the tools to communicate what matters to them.
Once my students identify the things they care about, the spark is lit. They can then use the digital media skills I teach them to share their thoughts, ideas, and visions with a much larger, broader, and more global audience.
I believe that everyone has a responsibility on this planet. As an educator, my main goals are to help these young people live their truths and tap into their greater purpose. By creating an academic space in which students are encouraged to explore their passions, I'm helping ensure that the next generation of storytellers and content creators can change the world.